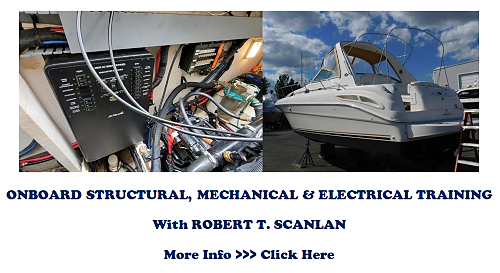 ---
POWER & MOTORYACHT MAGAZINE FEATURES MASTER MARINE SURVEYOR
Full Article - Click Here

MOTORYACHT MAGAZINE FEBRUARY 2021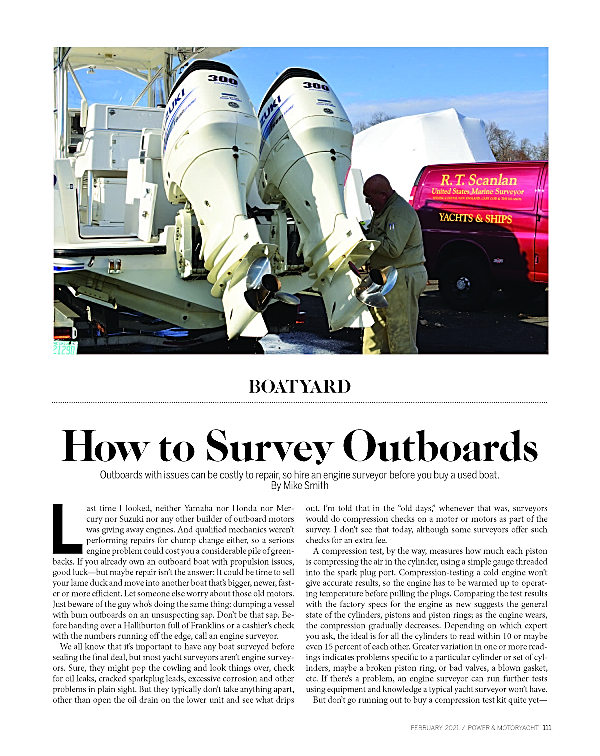 Full Article - Click Here


HERALDED BY MARINE PROFESSIONALS AND CLIENTS.

"hire the top-notch engine surveyor".... "a reputable engine surveyor should be an experienced mechanic certified for the engine"
---

52 YEARS IN MARINE SECTOR
36 YEARS ACCREDITED & CERTIFIED MARINE SURVEYOR
Member: American Institute Marine Underwriters & National Marine Bankers/Lenders Association
PRIVATE & CORPORATE YACHTS ~ POWER & SAIL ~ HIGH-PERFORMANCE RACING BOATS
COMMERCIAL CHARTER & COMMERCIAL PASSENGER VESSELS ~ HIGH SPEED FERRIES
UNITED STATES COAST GUARD LICENSED CAPTAINS ~ BONDED & INSURED
Rinda Technology Marine Engine Diagnostic Technician
Computer-Generated Cylinder Power Balance Testing with Charts
TEXA Marine Management System Marine Diesel Engine Platforms
JALTEST License All Make/Model Marine Diesel Engines Diagnostic Specialist
CDI/Marine Engine Diagnostic Systems Registered All Platforms Engine Diagnostic Technician
There isn't another NAMS or SAMS marine surveyor in the United States that has the computers and software above to diagnose every make/model marine diesel engines; all make/model outboards & inboards.
1986 to Present -- Master Marine Surveyor - inspecting and surveying wood, fiberglass, steel, aluminum and ferrocement pleasure yachts, commercial passenger vessels and commercial fishing vessels. I conduct steel and aluminum hull ultra-sounding, corrosion and osmosis analysis, engine fluid spectrometric analysis, compression testing, marine consultation and a full set of computer diagnostics. I have the extensive background in pre-purchase and financial surveys, insurance appraisals, adjusting, bank/estate and tax donation appraisals.

1978 to 1986 -- Marine Sales - electronic equipment sales and installation. I practiced yacht repair, yacht maintenance, commissioning and delivery of boats and yachts to New England coastal marinas by water and over land via fifth wheel hydraulic trailer and related equipment. I demonstrated the proper use and sales of hydraulic trailers used for transporting yachts over the road and within the marinas for Sea & Land Design Company.
EDUCATION
1970 -- Graduated Lynn Classical High School College Preparatory Program

1971 -- Massachusetts Maritime Academy, Buzzards Bay, Massachusetts Credited in Military Law, Celestial Navigation, Rules of the Road Navigation, Cargo Handling and Western Civilization

1973 -- Northeastern University Law Enforcement program at Lynn English extension. Studied Administrative Justice, Evidence, Evidence & Courtroom Procedure Interview and Interrogation

1993 -- Commonwealth of Massachusetts Harbormaster Marine Law Enforcement Training.

1995 -- United States Coast Guard Auxiliary Flotilla #503 First District Boston. Endorsements: BS&6 Lesson; Basic Sailing; Piloting; Weather; Marine Engines; Radiotelephone; Marlinspike Seamanship; Inland Waterways, Locks & Dams.

1996 -- New England Institute of Technology Marine Diesel Maintenance / Troubleshooting

2013 -- Commonwealth of Massachusetts Firearms Safety.

2013/2015 -- United States Coast Guard Training Center (TRACEN) Yorktown, VA. Marine Inspection & Investigations School. Title-46 Commercial Fishing Vessel Examiner. United States Coast Guard UTV (Towing Vessel) Training.

2015-2022 -- Annual Certification & Accrediting Seminars, Standards and Re-Certification Updating. Accumulative Marine Surveying Education & Continued Education Credits.

Updates -- Annual Licensing updates for all make/model Marine Engine Diagnostic Platforms for marine diesel engines; outboards; gasoline inboard engines.
MEMBERSHIPS/SOCIETIES/HOMELAND SECURITY
Association Certified Marine Surveyors

National Constables & Marshals Association

Lloyd's Maritime Institute

Commonwealth of Massachusetts Licensed Marine Investigator

Licensed Marine Investigator Massachusetts State Police Cert#LP1124A

United States First Responders Association Marine Sector Boston

Maritime professional Responders & Officers Association

American Institute Marine Underwriters Full-Contributing Member

International Association of Marine Shipping Professionals

International Institute of Marine Surveying

International Superyacht Society

Canadian Association of Certified Marine Surveyors

National Marine Lenders Association

CDI/M.E.D.S. Marine Engine Diagnostic Systems Registered Technician

RINDA Technologies Marine Engine Diagnostic Technician

JALTEST Diesel Engine Diagnostic Technician

Society of Naval Architects and Marine Engineers

Westlawn Institute of Marine Technology Master Standards Compliance Specialist

American Boat and Yacht Council

International Union Marine Insurance

TASA Registered Marine Expert Witness/Litigation Attorneys & Judges

United States Coast Guard Title 46 Commercial Fishing Vessel Examiner

United States Government Transportation Worker Identification Credential

NMFS Commercial Vessel Operator Permit

Department of Transportation Medical Examiner's Certificate

CDL Commercial drivers license with air-brake & tank endorsement

Maritime Consortium Random Alcohol & Drug Testing
HERALDED BY MARINE PROFESSIONALS AND CLIENTS
"Rob Scanlan has been the only Accredited & Certifed Marine Surveyor we have recommend to our professional captains and students."
-- Captain Rick Kilborn, BOATWISE Marine Training

"He is in all probability, the best in the country."
-- U.S. Yachtmasters

"...a dedicated and professional Certified and Accredited Master Marine Surveyor. Thorough and comprehensive engine analysis on all our commercial vessels."
-- Offshore Performance Marine Center

"...we interviewed 14 Marine Surveyors to survey our trade-ins; Rob is leagues ahead of the others."
-- Powerbrokers International

"Top Gun in Marine Surveying"
-- Jim Walker, CBS News

"The best often stay so busy with referrals from insurance companies, lenders and satisfied customers that they don't advertise at all. One surveyor's name that may keep cropping up...an Internet source is www.mastermarinesurveyor.com which has some good information."
-- Motor Boating & Sailing

"It is the participation of Marine Professionals like you that enables the EXCHANGE to be a reliable and valuable source of information."
-- Ernest F. Braatz, Technical Director BOAT/US

"His standards, ethics and principles are unparalleled in the profession."
-- Institute of Marine Science

"It is refreshing to work with someone who has a straightforward approach; on target with the insurance underwriter's concerns."
-- William R. Skinner, Boston Towing and Transportation Company

"A distinction for which you can be very proud."
-- Walter J. Boverini. Senate Majority Leader

"As always, you provide a thorough survey report of the boat."
-- Boston Yacht Sales

"Your analysis was instrumental in what could have been a serious problem. The ultrasonic testing and follow-up report was most explicit."
-- SPIRIT OF BOSTON

"In depth corrosion analysis and prompt attention."
-- Dana Goodell, President, Boston Harbor Commuter Service: MAJESTIC PRINCESS

"High Integrity and High Professional Standards."
-- George Auchy, President, Propeller Club, Port of Boston

"Extra effort beyond the survey. Professional manner above and beyond."
-- City of Gloucester, Harbormaster's Dept.

"Professionally a renowned Marine Surveyor; recognized expert in Surveying and Inspecting marine vessels."
-- Senator Edward J. Clancy

"Probably the most knowledgeable surveyor in the United States. Professional and thorough."
-- Andy Soto, Editor CBS News & 60 minutes
MARINE SURVEYING PRACTICE
Surveying and consulting on pleasure yachts and commercial vessels power and sailing.
Surveying and consulting on yachts, ships, tugs, barges, schooners and amphibious water craft.
Pre & Post Purchase Surveys and Consulting.
Marine engine computer diagnostics, compression testing & mechanical surveys.
New Build. Main Engines, Generators & Propulsion System Surveys.
Project Management.
Marine Litigation & Expert Witness Support.


MARINE LIABILITY INSURANCE COVERAGE
I carry 2m Marine Liability Insurance Coverage with Care, Custody & Control Underwritten by North American Specialty Insurance Company
Longshoreman's Worker Compensation Coverage Underwritten by Association Industries of Massachusetts Mutual Insurance.