PREPARING THE YACHT OR BOAT FOR MY SURVEY
The yacht must be plugged into shore power with a 30 amp or 50 amp shore power cord(s) and all batteries installed, wired-in and full-charged on the date of the survey.
All manuals, maintenance log, receipts, registration, USCG documentation papers and a copy of the previous survey on board the yacht or boat prior to my survey.
The owner or selling party, broker/agent must have the vessel ready for my survey. Masts & spars must be removed from storage racks to ground-level for inspection on the date of survey.
A MANDATORY 72-HOUR NOTICE MUST BE RECEIVED VIA EMAIL TO RE-SCHEDULE OR CANCEL ANY SURVEY. CLIENTS WILL BE RESPONSIBLE FOR THE FULL SURVEY FEE IF THIS OFFICE IS NOT NOTIFIED VIA EMAIL

72-HOURS

PRIOR TO THE DATE/TIME OF SURVEY

TRAILER SURVEYS & ROAD TESTING call to discuss.

ALL SURVEY FEES/ CHARGES ARE NEGOTIABLE

($500.00 MINIMUM)

Additional charges for fuel only based on zip code destination to and from the survey will be negotiated.

No charges for travel time.

18 ft. to 29 ft.

call to discuss

30 ft. to 34 ft.

call to discuss

35 ft. to 40 ft.

call to discuss

41 ft. to 45 ft.

call to discuss

46 ft. to 50 ft.

call to discuss

51 ft. to 60 ft.

call to discuss

61 ft. to 70 ft.

call to discuss

71 ft. to 80 ft.

call to discuss

OVER 80 FEET WILL BE NEGOTIATED WITH CLIENT;
TRAVEL AND EXPENSES ALSO WILL BE NEGOTIATED.

United States Coast Guard and National Crime Bureau. Boat History Search for clear title and any liens:

$150.00
The following charges are in addition to my survey fee if the yacht or boat is not set-up on the date scheduled. These charges must be paid in full prior to releasing any survey report.

All decks, cabin roof and cockpit free of ice and snow:

$250.00

Bilge areas must be clean and dry; no collected water or spilled oil/grease:

$200.00

Full-charged batteries are required for compression testing. Dead battery(s) on board and I have to use my AC-powered jump-start:

$75.00

Replace/install missing batteries with my batteries off the truck:

$44.00/each

No shore power access and use of my on-board generator on the truck:

$75.00

Using & running my hose(s) on board my truck if over 100 feet from vessel:

$35.00

I will re-winterize the engine(s) at the survey:

$75.00/engine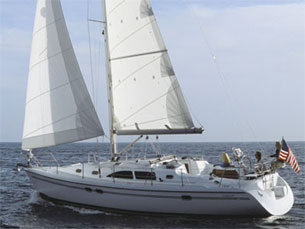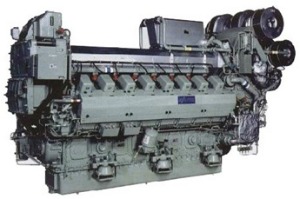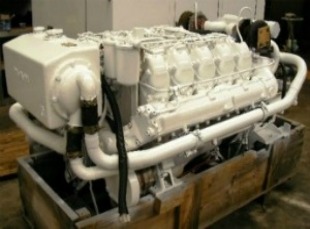 ADDITIONAL TESTING AND ANALYSIS

Gasoline engine compression testing on inboard & outboard engines

call to discuss

Computer-Diagnostic test with compression testing on gasoline engines & outboards

call to discuss

Diesel engine compression testing & analysis

call to discuss

Diesel engine run-up, operational testing, oil analysis & engine block compression leak testing using my gauges and instruments.

call to discuss

Spectrometric Engine Oil Analysis

call to discuss

Hull Corrosion Analysis

call to discuss

Hull Osmosis Analysis

call to discuss

Fiberglass Hull, Steel and Aluminum Hull Ultra-Sounding

call to discuss

Ultra-Sound readings will be every 2-3 square foot of bottom plating.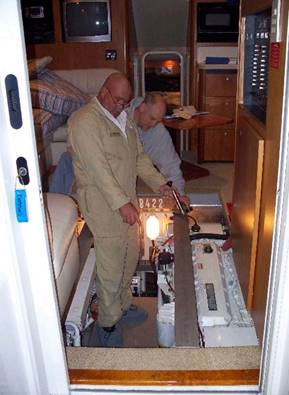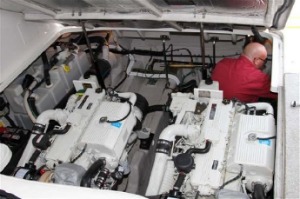 My leak down or cylinder leak test is similar to my compression testing in that it tells me how well your engine's cylinders are sealing. But instead of measuring pressure, it measures pressure loss. I removal all of the spark plugs, then the crankshaft is turned so that each piston is at top dead center (both valves closed) when each cylinder is tested. I then start with cylinder number one and follow the engine's firing order. A threaded coupling attached to a leakage gauge is screwed into the spark plug holes. Compressed air (80 to 90 psi) is then fed into the cylinders one at a time.
An engine in great condition should generally show only 5 to 10% leakage. An engine that's still in pretty good condition may show up to 20% leakage. But more than 30% leakage indicates trouble. The neat thing about a leakage test (as opposed to a compression test) is that it's faster and easier to figure out where the pressure is going. If I hear air coming out of the tailpipe, it indicates a leaky exhaust valve. Air coming out of the throttle body or carburetor indicates to me a leaky intake valve. Air coming out of the breather vent or PCV valve fitting will tell me the rings and/or cylinders are worn.

A leakage test can also be used in conjunction with my compression testing to diagnose other kinds of problems. Any cylinder that has poor compression but minimal leakage usually has a valve train problem such as a worn cam lobe, broken valve spring, collapsed lifter, bent push rod, etc. If all the cylinders have low compression but show minimal leakage, the most likely cause is incorrect valve timing. The timing belt or chain may be off. If compression is good, and leakage is minimal, but a cylinder is misfiring or shows up weak in my power balance test, it indicates a fuel delivery (bad injector) or ignition problem (fouled spark plug or bad plug wire).
MARINE EXPERT WITNESS/ DEPOSITION/ LITIGATION FEE SCHEDULE

Telephone Consultations (one hour minimum)

$ 175.00 per hour

Depositions (per day minimum plus travel)

$ 2000.00 per day

Courtroom Appearances (per day minimum plus travel)

$2500.00 per day

Photographs (per 50 digital images)

$ 65.00 minimum

Initial Inspection to document focus of litigation

$ 2000.00 minimum

Minimum Deposit/ Retainer (may be increased based upon requirements of the case)

$2000.00 minimum

Administrative Fees

5% of the fees

Expenses: Include accommodations, meals, parking, rentals, miscellaneous project related costs, travel time, mileage and/or transportation costs. Travel is billed from Nahant, Massachusetts 01908.

Exhibits: Customized exhibits, including digital, photographic and thermal images, prepared to client's need. All exhibits remain the property of R.T. Scanlan, CMS/MMS/CACMS.. Exhibits may NOT be used without authorization. Prices vary

Fees are to be paid by cashier's check, certified check, or wire transfer no later than 14-days before appearance for deposition or testimony. Cancellation must be prior to the 14-day deadline or client will be responsible for payment of fees.

Fees for initial inspections are due prior to release of the inspection report.

Fee Schedule as of January 1, 2013

UNITED STATES COAST GUARD VESSEL DOCUMENTATION PREFERRED SHIPS MORTGAGES ~ VESSEL TITLE RESEARCH BOAT REGISTRATION ~ YACHT REGISTRY BOAT & YACHT TITLING
PAYMENT FOR SURVEY IS DUE ON DATE OF THE SURVEY.
CASH, CERTIFIED BANK CHECK OR MONEY ORDER ONLY.
NO PERSONAL CHECKS WILL BE ACCEPTED
"NO JOINT SURVEYS"